The State Council of Educational Research and Training (SCERT) was established on 20th January, 1980 under the Directorate of Education with an Officer-on-Special Duty (OSD) as Head of the office. The post of OSD was given the status of Deputy Director which was later on upgraded to Joint Director in 1989. Finally it was upgraded to full-fledged Directorate on 22.5.2008. The SCERT is housed in its own building which was completed in 1989 and inaugurated on 2 February, 1990 by the then Education Minister.
The SCERT is the state counterpart of the National Council of Educational Research and Training(NCERT) New Delhi, dealing with academic aspects of School Education and Teacher Education. Its main purview lies with Curriculum and Textbook Development, Science and Mathematics Education, Promotion of English, Vocational Education, Educational and Vocational Guidance and Counselling Services, Integrated Education for Disabled Children, Environmental Education, Computer Aided Education, Distance Education, Educational Research and Non-Formal Education for the general public on specific issues.
These objectives are realised through - Training and Research. Educational training provides for extension and in-service training programmes to teachers, teacher educators, educational supervisors and educational administrators. Research work has so far been restricted to action research, case studies and survey projects funded by the Government of India.
Since its inception, the SCERT has grown in size and stature. A new building constructed to house Educational Technology Studio and Science laboratory has been named the 'Silver Jubilee Building' to commemorate the SCERT's completion of 25 years of its existence in 2005. This building now proudly houses Teaching End Studio with EDUSAT facilities set up by the Indian Space Research Organisation (ISRO) in collaboration with the Ministry of Human Resource Development. This is to provide educational programmes and video conferencing between Teaching End Studio and 50 Satellite Interactive Terminals located in different parts of Mizoram.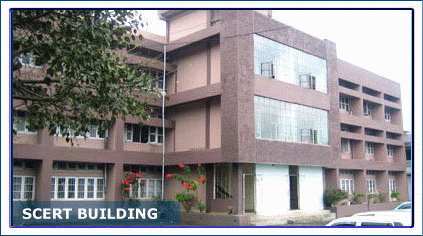 Location : The SCERT, Mizoram is located in the northern part of Aizawl at Chaltlang